Diploma in English and Certificate in English – South Eastern University of Sri Lanka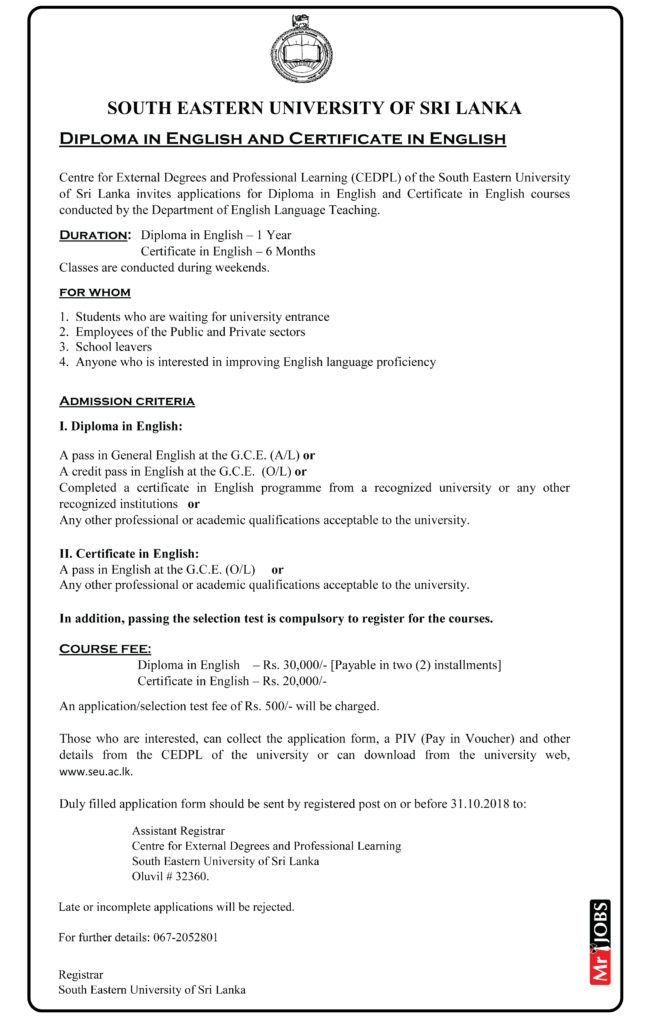 ——————————————————————————————————————
Centre for External Degrees and Professional Learning (CEDPL)
South Eastern University of Sri Lanka
INSTRUCTIONS FOR FILLING APPLICATION
Application for English Courses 2018 / 2019
Diploma in English and Certificate in English
Select the course of study by ticking (√) the relevant box and passing the selection test is compulsory to register for the courses.
Fill all the cages in block letters
Attach only the copies of required documents (NIC and G.C.E (O/L) or (A/L) examination results
The application / admission test fee of Rs. 500.00 must be paid in the prescribed Pay-In-Voucher (PIV) and the fees can be paid at any branch of People's Bank. The PIV endorsed by the Bank should be affixed in the application
Name of the course applying for should be indicated at the top left hand corner of the envelope.
Closing date of application: 31.10.2018. Late and incomplete application will be rejected without any notice.
Assistant Registrar / CEDPL
for Registrar
Download Pay-In-Voucher (PIV)